Ross & Rachel's Daughter On 'Friends' Is All Grown Up And Starring In 'Us'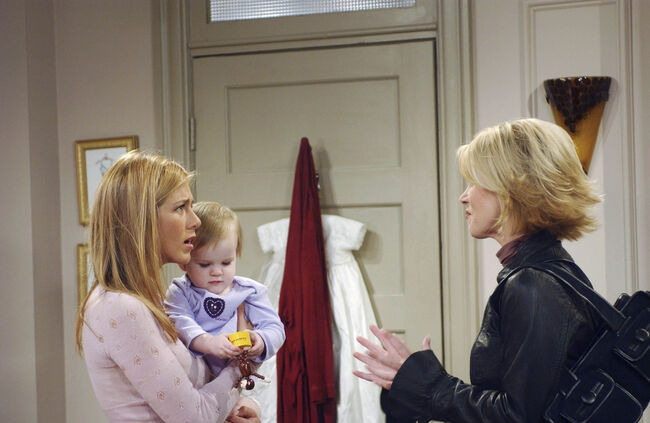 If you want to feel super old, Ross and Rachel's daughter, Emma Geller-Green, from Friends is about to turn 17-years-old. Back in the show's seventh season, which aired in 2002, Ross and Rachel welcomed their daughter on May 12. It's hard to believe it's been nearly two decades since that episode aired. What's even crazier, of course, is that the twins who played Emma on Friends are getting back into acting after all this time. Cali Sheldon and Noelle Sheldon are all grown up and starring in one of 2019's most highly anticipated films: Jordan Peele's Us.
The 16-year-old Sheldon twins star as Becca and Lindsey, the daughters of character Kitty Tyler, played by Elisabeth Moss. According to NBC Philadelphia, Becca and Lindsey are pretty obnoxious and spend most of their screen time playing cruel pranks on the other characters. Cali and Noel, though, were given the chance to show of their IRL gymnastics skills in the movie, as well. "They have a couple of scenes where they really steal the show," director Jordan Peele told Entertainment Tonight.
Us premiered on Friday (March 22) and Cali and Noelle have been sharing a ton of fun photos from opening weekend on their Instagram accounts. "These people made a really amazing movie. Congrats!" Noelle wrote alongside a slideshow of photos from the premiere party.
Don't worry, they also share a ton of nostalgic Friends content, too. They even posed next to their on-screen mom aka Jennifer Aniston's star on the Hollywood Walk of Fame.
They visited the iconic Central Perk set, too, with Noelle hilariously captioning the shot "the one where Emma got cloned."
Now that they're acting again, that leaves us with one question: are they down for a Friends reboot? Jennifer Aniston is!
Photo: Getty