Indiana Spring Breakers Foil Armed Robbery at Florida Gas Station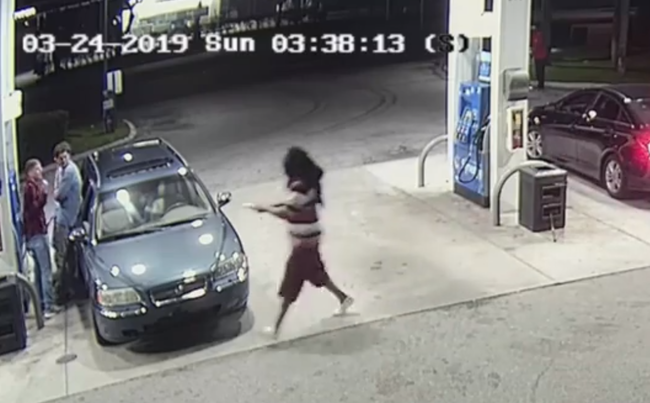 A group of cousins who were on spring break in Florida last week found themselves fighting off a masked man who attempted to rob them at gunpoint and it was all caught on camera.
The Broward County Sheriff's Office says they responded to a report of an attempted armed robbery at a gas station in Orland Park, Florida, early Sunday morning. The group of men from Indiana told officers they were heading back to Broward County from South Beach when they stopped for gas.
Surveillance video showed the four spring breakers chatting while filling up their vehicle when a masked man walks up to the group, pointing a handgun and demanding everything they had.
However, instead of giving into the robber's demands, the sheriff's office said the cousins began attacking the suspect, tackling the man to the ground as they tried taking the gun away from the would-be robber.
"The victims, despite being in fear for their lives, grabbed the armed subject and tackled him to the ground. While the victims struggled with the armed subject, a second subject, later identified as Kevin Campbell, ran over and began pushing the victims off the armed subject," a statement from the Broward County Sheriff's Office said.
"During the struggle, the subject's handgun fell to the ground. One of the victims was able to pick up the handgun and point it at both of the subjects. Both subjects got into a black Hyundai Sonata with Campbell in the driver's seat," the department said. "The victims were able to note the car's tag, which they provided to deputies."
One of the victims, Aric Wisbey, told WPLG that they were trying to wrestle the gun away from the man on the ground when the suspect's accomplice, later identified as Kevin Campbell, 33, ran over to the group and pushed one of the cousins off the armed suspect. That's when the loaded gun fell to the ground and Wisbey was able to retrieve it, and point it back at the suspects who quickly fled in their vehicle.
Fortunately, no one was hurt during the incident.
Both Aric Wisbey and his cousin Alex, say they have concealed weapons permits in Indiana and have plenty of experience handling guns. However, they say people who find themselves in a similar situation should comply with the robber's demands if their gut tells them too.
Detectives are still searching for the armed suspect. He's described by officers as a man with a stocky build, roughly 6 feet tall, about 210 pounds, with a dark complexion and dark hair in dreadlocks.
The handgun had been stolen in 2017 during a vehicle burglary, the sheriff's department added.
Photo: Broward County Sheriff's Office